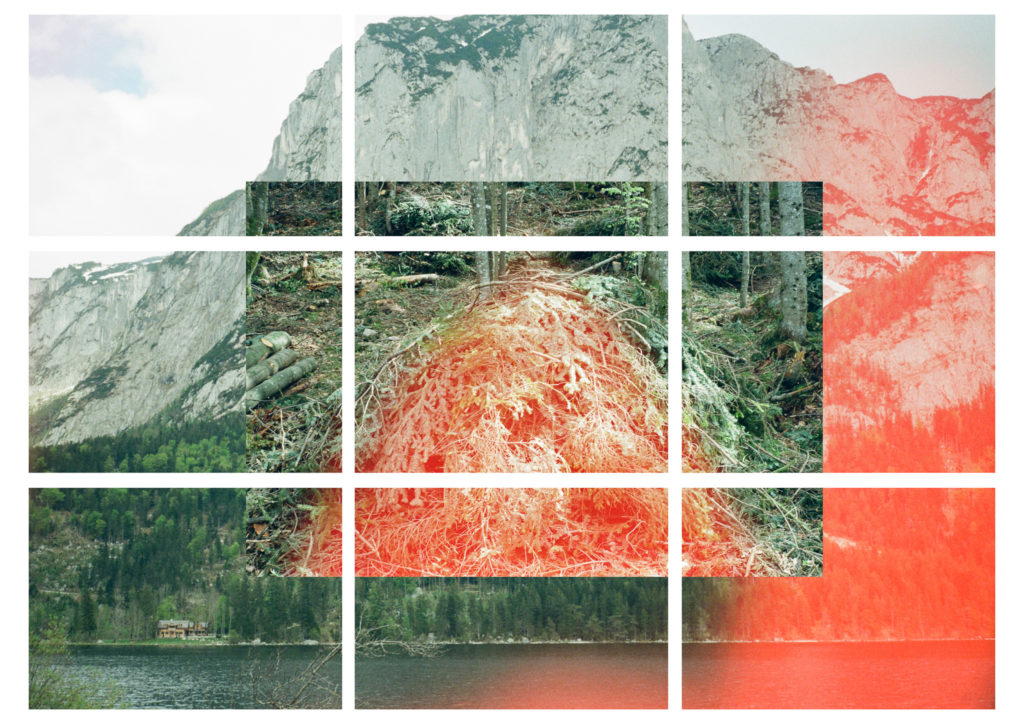 I am a photographer and printmaker. My practice is diaristic and consumed with themes around loss, longing, violence and grief. I am fascinated by the abject and the sublime, and the duality of fact and fiction.
'The Lake' series was made alone whilst walking in a meditative state around Lake Altaussee in Austria. My head was hurting, I had recently had a brain scan and I was exhausted. I was searching for answers to relieve my plummeting emotions. The landscape was full of forests and huge lakes. It is situated in a place steeped in dark histories, of fairy tales and war time secrets. There was a real sense of foreboding from the external terrain and also my personal internal trauma post MRI brain scan.
My practice is emotionally driven. My experiences shape the way I make my work.
The series was created initially with 35mm film with a light leak. The undetermined nature of working with an analogue process was integral to the series. I wanted to take these images apart, akin to what I was trying to do with my own thoughts. I then wanted to put them physically back together layer by layer onto the paper using four colour photopolmer and screen etch resist processes. I found myself in a performative mode whilst creating the images, using both physical and mental strength to create the work. The light leaks bring a sense of 'otherness'. They became a totem for placing myself back into that landscape
My work has been exhibited internationally and is part of a number of private collections. My series 'Sick' was selected for Festival Circulation(s) in Paris. My work has been published in Uncertain States, Sluice magazine and I was also named by Gup magazine 'Fresh Eyes Photo' book presenting 100 photographers emerging in Europe in 2019.
My zines are sold in The Photographers Gallery in London, and The Library Project in Dublin and in many private collections.
C-type print with four colour photopolymer 65cm x 47 1.2 metres x 1 metre

Duratran lightbox 5 metres x 3 metres

C-Type print with screen print (55 x 60cm) 1.5m x 2m

C-Type print with photopolymer 55 x 60cm 1.5m x 2m

Vinyl print 2metre x 1 metre with screen print on aluminum 39cm x 29cm

C-Type print with screen etch resist print (55 x 60cm) 1.5m x 2m

C-Type print with screen print (55 x 60cm) 1.5m x 2m

C-Type print with screen print (55 x 60cm) 1.5m x 2m

C-Type print with screen print (55 x 60cm) 1.5m x 2m

C-type print with photopolymer (65cm x 47) 1.2 metres x 1 metre

C-type print 1.2 metres x 1 metre

C-type print 1.2 metres x 1 metre

C-Type print with screen print (55 x 60cm) 1.5m x 2m

Vinyl print 2metre x 1 metre with monochrome screen print on aluminum 39cm x 29cm
VIRTUAL GALLERY

You can click on this link below to enter the virtual gallery of 'The Lake'
https://publish.exhibbit.com/gallery/573648075/marble-gallery-26746
VIMEO
INSTAGRAM
MY WEBSITE
CONTACT ME